Trend of Mixed Metals Moves to Kitchen Appliances
 JennAir appliances will provide contemporary style and numerous features in MRM's kitchen makeover.
 If your kitchen remodeling clients are interested in the look of mixed metals for their dream contemporary kitchen, you can tell them that the trend is still going strong. 
"Customers and designers doing residential remodels are choosing mixed metals in the kitchen, whether they are using different hardware finishes, faucets, or backsplash tiles," says Melinda Garvey, JennAir luxury key account manager in the Washington, D.C., metro area. "They're treating hardware like jewelry. You can see the trend in our Rise Gas Professional range, which is stainless steel with brass accents, and a handle with a reverse knurling design."
That's the 48-inch JennAir range that Mark and Mina Fies, owners of Synergy Design & Construction and homeowners of the Model ReModel, chose for their Reston, Va., home's new contemporary kitchen. With the combination of a stainless range exterior with brass collars on the range controls, the unit appealed to Mark and Mina's design goals. The range offers stacked 20,000-btu brass burners, a lower power (1,500 btu) simmer/melt burner, dual convection, and three oven racks, two of which glide out. 
The powerhouse of the Model ReModel kitchen will be this 48-inch JennAir Rise gas range. Courtesy JennAir
The couple has used JennAir appliances in clients' homes repeatedly since starting Synergy in 2008, which made them comfortable with installing the company's products for their own dream kitchen remodel as part of the Model ReModel. 
"They're extremely well rated by independent sources, the client experience was good, and we really liked the look and design," Mark Fies, Synergy's COO, says. "It was a more contemporary take on the traditional commercial-grade appliances."
They will use a number of JennAir appliances throughout the Model ReModel's new dream kitchen: an induction cooktop, 30-inch electric wall oven, refrigerator, microwave, and dishwasher, in addition to the range.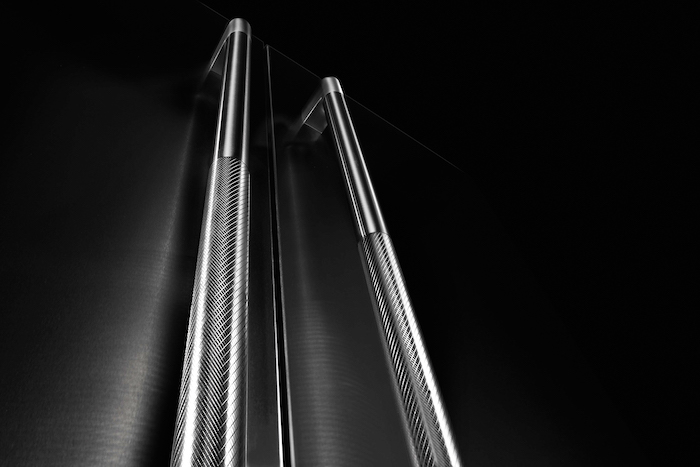 The Rise line features diamond-etched knurled handles. Courtesy JennAir
Research by the New Home Trends Institute has found that the dishwasher is typically homeowners' least favorite appliance, but Mark and Mina's 24-inch Rise TriFecta dishwasher might just buck that trend. At just 38 dBA (A-adjusted decibels, which account for human sensitivity to sound frequencies), the Model ReModel's dishwasher is the "quietest in the industry," according to the manufacturer. It also has a removable third rack, LED theatrical lighting, a bottle wash for tall items like water bottles, a stainless interior, wi-fi capability, and other features.
This JennAir dishwasher accommodates tall items like water bottles and at just 38 dBA, won't keep Mark and Mina awake when it runs at night. Courtesy JennAir
In the secondary kitchen, Mina and Mark will be installing the 30-inch JennAir Lustre Induction flex cooktop with six cooking areas. A cooking technology that is growing in popularity in many markets, induction cooking appliances are chosen by 20 percent of JennAir buyers in the D.C. metro area, according to Garvey. 
Mark and Mina see the Model ReModel as a way to introduce clients to different remodeling options like this induction cooktop, which will be installed in the secondary kitchen. Induction provides cooks with precise control and quick, powerful heating in an energy-efficient way. Courtesy JennAir
That corner of the modern kitchen will also include a 30-inch Rise JennAir wall oven with V2 dual convection, multi-level and product cooking options, glide-out oven racks, and even a culinary center that guides users through time, temperature, and doneness options for different types of recipes. It too has wi-fi capability. 
This JennAir Rise electric wall oven will be located in the secondary kitchen, below the induction cooktop. Courtesy JennAir 
 The Model ReModel's new refrigerator will feature JennAir's Obsidian black interior. Courtesy JennAir
Supporting all those cooking appliances in the remodeled kitchen will be one refrigerator: the 36-inch Rise counter-depth French door model in stainless with JennAir's distinctive Obsidian black interior. This energy-efficient model keeps food fresher longer and maintains the interior temperature within a half-degree, according to the manufacturer.
Discover the cabinetry plans for the Model Remodel's kitchen makeover.