These 3 Electrical Updates Will Bring MRM Up to Code
Bringing a 50-year-old home up to code requires both major and minor work.
While the Synergy Design & Construction team has been updating the plumbing at the Model ReModel, they've also been roughing in the Reston, Va., home's electrical wiring.
"The county requires you to meet new code requirements everytime you touch a room, so for this project, there are quite a few things we have to upgrade," explains Assistant Project Manager Matt Offerman, standing in the Model ReModel's guest bedroom.
For the Model ReModel, that translates into electrical updates both major and minor in this home makeover. Here are three key upgrades.
1. New subpanel
In the kitchen, where Synergy owners and Model ReModel homeowners Mark and Mina Fies are adding an induction cooktop and electric fireplace, electricians will be adding a subpanel of 60 to 90 amps to handle the additional circuits. Why the uncertainty about the final size of the subpanel? Continued supply chain problems due to covid slowdowns and robust housing demand. "Frankly, it depends on what's available," Mark, Synergy's COO, says. "There are so many shortages for different panels that even if we needed 60, we might end up going with the 90." 
The electrical panel at the Model ReModel will gain a subpanel of 60 to 90 amps to handle the circuits for the new kitchen. 
2. New dedicated circuit for the primary bedroom suite
Upstairs, the second floor will be getting a dedicated circuit to serve the new recessed lighting in the primary suite and other new features. In the primary bathroom, that includes a heated tile floor and Panasonic's WhisperFit DC ventilation fan.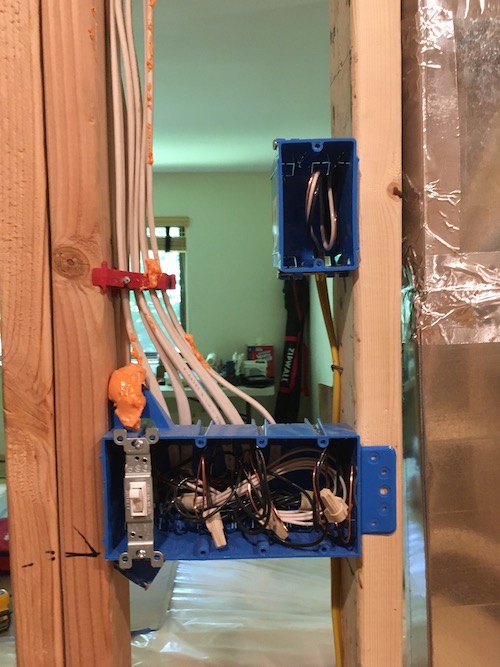 Once completed, this electrical box will allow Mark and Mina to turn the heated tile floor in the primary bathroom on and off. 
3. New outlets
After 50 years, many of the existing outlets in the Model ReModel are burned out and no longer functional, according to Fies. These will be replaced. 
Aging outlets like this one will be replaced as part of the Model ReModel's electrical updates. 
Updating a mid-20th century home? Watch out for these 7 things.