Synergy Crews Install Flitch Plate
Steel and engineered lumber solution will open up the living area and kitchen.
At 352 pounds and nearly 18 feet long, the ⅜ inch-thick steel plate was a monster. But as the heart of the flitch plate beam replacing load-bearing walls, it was always intended to do a big job to support the Model ReModel's new open floor plan on the main level.
"The load was just too great to use engineered lumber alone like LVLs, and we didn't want to go through the expense and challenges associated with using a steel beam, like the weight, cost and installation," explains Mark Fies, COO of Synergy Design & Construction in Reston, Va. (LVL, or laminated veneer lumber, is an engineered wood product that is extremely strong. It is made by peeling wood veneers from logs; those veneers are then bonded together using adhesives and pressure.)
The experience was the Northern Va. remodeling firm's first time using a flitch plate, which is often used to shore up beams in older homes, provide structural support when load-bearing walls are removed or connect additions to an existing home.
While the idea is simple--a steel plate is sandwiched between two LVLs--the installation is heavy-duty. It took four Synergy crew members and two-wheeled dollies to move the heavy steel plate into the Model ReModel. Once the front end of the steel was in the house, the crew (led by Matt Offerman, Synergy's assistant project manager) moved to the next phase: getting the metal piece into the main level's ceiling. 
"You can rent equipment to lift it into place, but we chose to set up temporary framing and shoring to allow us to slide and guide it into its place," explains Mark. "It took us two days to set up the three sets of temporary walls, one day to install the flitch plate with its LVLs, and one day to complete the install of the other two beams." 
Unlike so many building products during this post-pandemic housing boom, the Model ReModel's flitch plate arrived right on time. "We tried to anticipate any potential delays by pre-ordering the material well in advance," Fies says. "The lead time for the production was a week and a half."
The flitch plate will begin just a few steps away from the Model ReModel's stairs between the main level and foyer level.This allowed Synergy crews to roll the heavy metal piece into the house, with relatively little lifting until the last few feet. 
The steel plate will reach across the main level of the Model ReModel, allowing for an open floor plan connecting the living room and kitchen.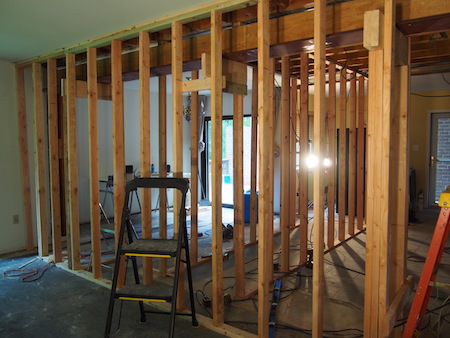 Temporary framing aids the installation of the flitch plate.
The flitch plate is integral in the new open-concept design. See Synergy's plans for the new look here!