Storage to Spin Cycle: Synergy Design Moves Laundry Room to Third Floor
The laundry room will move upstairs for more convenience in this year's Model ReModel.
Homeowners who are tired of hauling laundry baskets to and from a basement laundry room will want the Model ReModel's laundry room update for their own home.
According to the plans developed by Mark and Mina Fies' Synergy Design & Construction, the laundry area in their Reston, Va., home will move from the kitchen to the third level.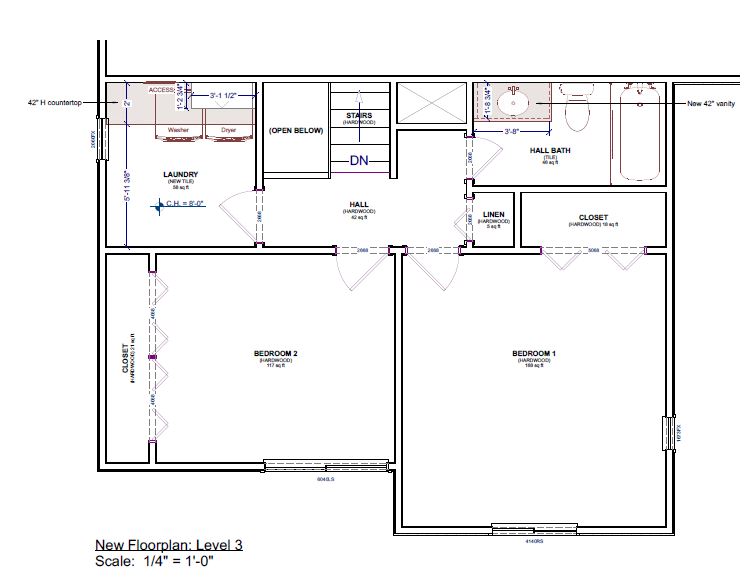 When completed, the Model ReModel's laundry room will include a Wi-Fi enabled washer and dryer, upper cabinets, and tile flooring. 
"There is an existing room that is too small to use as anything else but storage," Mina says of the 58-square-foot room. "Since it also has an access door to the attic space that needs to remain accessible, we thought it was the perfect place to put the laundry room where it was accessible to all the bedrooms and didn't take up valuable real estate in our primary suite."
Some updates will be required to accommodate the washer and dryer in the new location. "There is no plumbing in the space now," says Mina, who expects to run the new laundry room's plumbing lines from the first-floor powder room. "While there is electric already in the room, we will need additional outlets."
While the pandemic has caused delays for many appliances and building products, Mina and Mark have no worries about their washer and dryer arriving in time: the Wi-Fi-enabled appliances are already in use at the house. "The washer broke about three weeks before we started our remodel, and since they were both old units, we replaced both at the same time," Mina says. 
Laundry rooms can often be overlooked in existing homes, but that won't be the case at the Fies home. "Every room, every space in a home has a feeling and energy to it, so ensuring [the laundry room] feels like a cohesive part of the house is important," says Mina. "For us, keeping the existing window that brings in natural light, adding cabinetry, updating the flooring and then adding artwork and visual aspects to the walls is what will bring it all together."
Love the third-floor laundry plans? Learn more about Mark and Mina Fies, the minds behind the design.