Step Up Remodels With a Modern, Floating Staircase
Viewrail provides custom style at factory-built prices.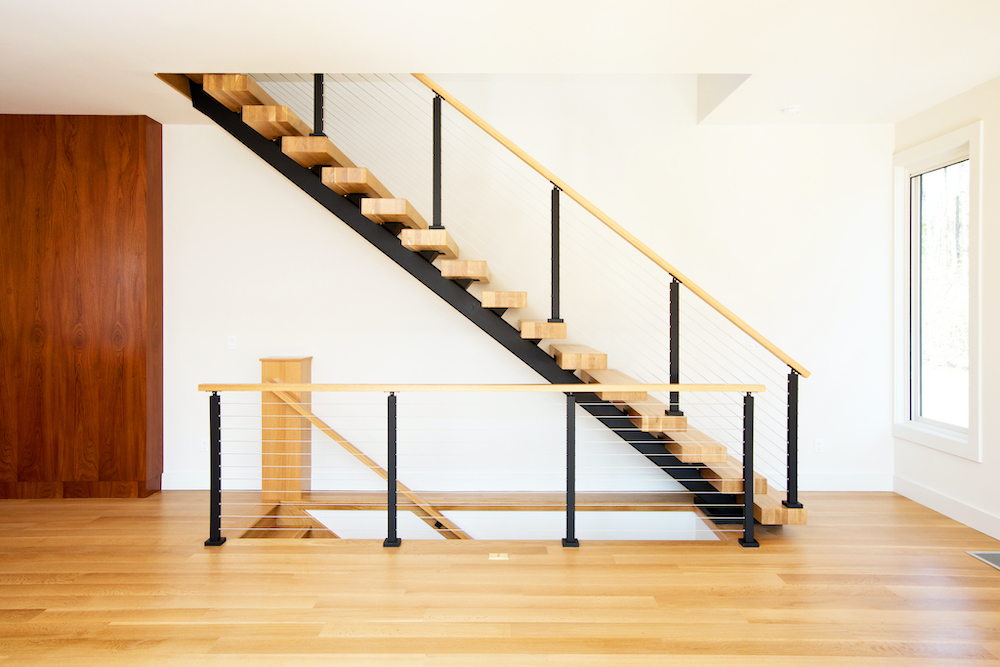 If a remodeler is wondering where they're going to find a floating staircase at a price that won't bust their homeowner's budget, it might be time for them to look at Viewrail.
"We are the primary, single-source manufacturer of floating stairways in the U.S.," says Austin Williamson, sales manager for Viewrail's FLIGHT floating stair system. "All the design, engineering and manufacturing of all components is done in one of our nine facilities in Goshen, Indiana." Components of the stairs include steel, wood, glass, aluminum, stainless steel cable, and much of the hardware.
Currently, Viewrail ships 30 to 40 stairways each week, serving the single-family and multifamily builder and renovation markets with interior and exterior stairways and railings. Options include glass, stainless steel rod, and cable railings, and a host of options for stair treads. "We offer thirteen species of wood in virtually any color and finish you want," Williamson says. "Have a really particular design in mind, or a demanding customer? We'll create a custom color for you."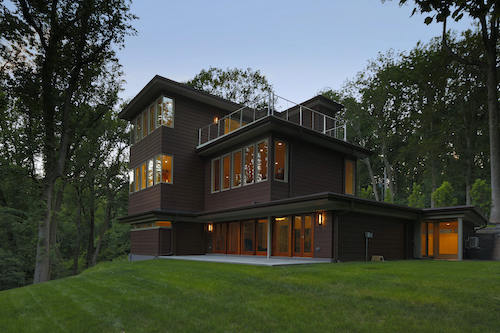 This award-winning home features an open concept kitchen and a FLIGHT floating staircase. Courtesy Viewrail 
What's the most popular in the remodeling market? Cable railing, according to Williamson, although he notes that rod railings are even easier and faster to install than cable railing, without the regular tightening by the homeowner that cable requires. "For stairways, a straight FLIGHT floating stairway is most popular because it's created in our factories, not on the job site," he says. 
That saves time and labor for remodelers like Synergy Design & Construction, which is using a FLIGHT stairway in the Model ReModel in Reston, Va. 
Viewrail does its best to support its remodeler partners from ordering to installation. "A remodeler need only provide us with five measurements, and we can accurately quote the job, including installation of stairways by our own team of installers," Williamson says. "We'll even come out to the job site for FLIGHT floating stairs and take the measurements ourselves to ensure a perfect experience for remodelers." 
The cost of a FLIGHT floating staircase depends on the project's floor-to-ceiling height, number of turns in the staircase, the type of railing, and the wood species and stain for the treads. Courtesy Viewrail 
For remodelers who want to go it alone, the company's website provides extensive resources on installing posts, handrails, rods, and more for its railings, FLIGHT floating stairs, and traditional stair products. 
Lastly, unlike so many appliance and building product manufacturers, Viewrail is not experiencing the same pandemic-related delays that are giving remodelers and homeowners so many headaches right now. "Their turnaround time is really quick," says Mina Fies, CEO of Synergy. "Once they manufacture it, they ship it," adds Mark Fies, Synergy's COO. 
Take a closer look at the project's plans for Viewrail floating stairs here.  
Clarification: The brand's name is Viewrail, not Viewrail by StairSupplies.