New Floating Staircase Will Bring Modern Look, Easy Installation
MRM's stairs will be replaced by Viewrail's FLIGHT system.
After a half-century of use, the staircase at the Model ReModel in Reston, Va., was due for a facelift. A chairlift installed for a previous homeowner to age in place left drill holes in the stairs, and the continuous metal railings with a heavy wooden handrail left little opportunity for updates beyond painting the railing black.
The existing staircase will be replaced by a floating staircase with cable railings and walnut treads, which will coordinate with the different flooring on the main level and primary bedroom level. 
To fit with the Model ReModel's open concept renovation, homeowners (and Synergy Design & Construction leaders) Mark and Mina Fies selected a floating staircase with walnut treads and cable railings. "We have a modern aesthetic, and we always wanted a cable rail," says Mina Fies, CEO of Synergy. 
They found the staircase they wanted at Viewrail, whose FLIGHT system offers contemporary style, a custom look, and an easy install at a reasonable price, according to Mark Fies.  "The advantage of working with Viewrail is that they customize it and engineer it to the opening," he says. "They ship it as a kit, and then it just needs to be installed."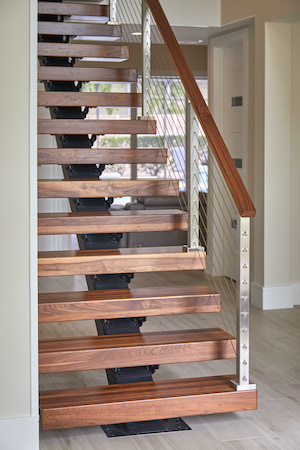 This product image of a Viewrail floating staircase provides a hint of what the new staircase might look like. 
He anticipates the process, once it begins, to take just a few days. "There's prep work, obviously," Mark Fies says. "The existing steps need to be demolished, and a little bit of structural support needs to be added to our home," such as adding anchors for the central metal rail supporting the treads. 
Another advantage for remodelers and their clients? Viewrail has a quick turnaround time, according to Mark and Mina, with the staircase components shipped to the home as soon as the manufacturing has been completed. 
The stairs aren't the only part of the home getting a facelift. Check out the plans for a kitchen fireplace here!