Luxury Spa Bathroom Takes Shape at Model ReModel
The shower has been tiled, and the vanity and countertop has been installed in the Model ReModel's new bathroom. 
As you stand in the Model ReModel's new primary spa bathroom, it takes a few moments to recall the awkwardness of the past space.
RELATED: Demolition Begins in Bathroom at Model ReModel
The oversized and unnecessary dressing area and dual reach-in closets are gone, replaced by a generous shower and a new walk-in closet. At 49 square feet, the new closet will certainly be an upgrade. 
But it's the shower in the new spa bathroom that is the current showstopper with its diagonally patterned tile. Mina and Mark Fies chose Emser's 10" x 10" Geometry tile in frame gray glaze porcelain, which features different textures on the slanted grey lines of the pattern. The shower is also large, measuring 6' x 3'7" and incorporating two showerheads, which will be installed this month.
"We love how the shower tile looks," Mina says. "We knew the graphic pattern would be bold and realized it wasn't the easiest of patterns to work with, but our tile installer was able to install the pattern flawlessly in the corners and niche for a seamless look throughout."
RELATED: 5 Tile Mistakes to Avoid on Your Next Bathroom Remodeling Job
The shower in this spa bathroom includes another improvement that is less obvious: better energy efficiency. To create space for the shower niche and add insulation where it was missing, Synergy crews framed a new wall 3.5 inches from the inside of the exterior wall, and added insulation and drywall throughout the space.
Just a few steps away is the new 7-foot, 9-inch double vanity by Cabico in quarter sawn white oak (ebony) with a Caesarstone countertop in airy concrete. Like the shower, the vanity is awaiting its fixtures, which will be installed in early September.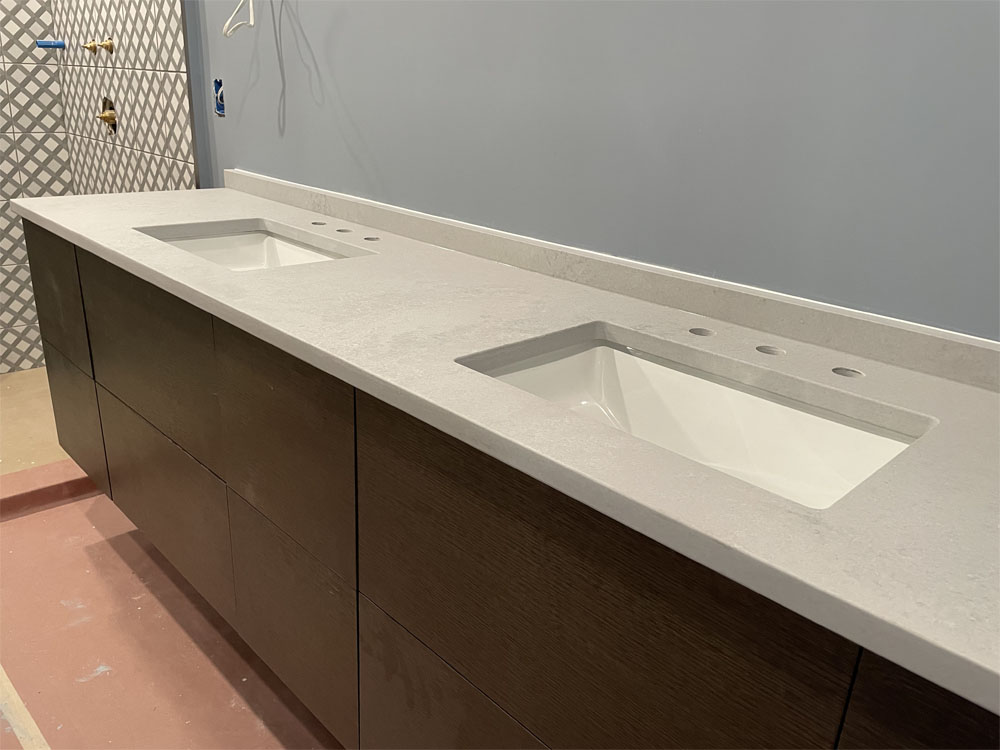 Prior to the countertops being installed, the precise plumbing work required for this vanity was easily visible. Due to the vanity's U-shaped drawers, Synergy Design and Construction crews had to carefully locate the plumbing in the intended places--or risk drawers' getting caught on the pipes.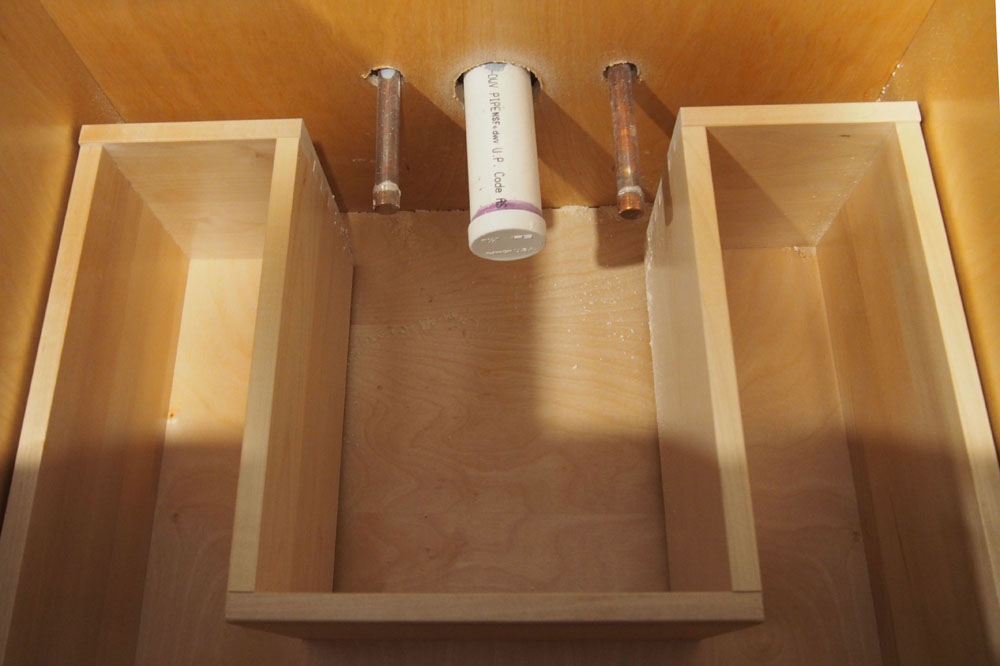 Still to come for the Model ReModel's spa bathroom? The toilet for the water closet, which is expected to be installed in early September along with the rest of the plumbing fixtures. 
RELATED: How the MRM Team Will Design Stylish Bathrooms With Tile