How to Save Space in a Small Laundry Room Remodel
Try this easy and inexpensive trick on your next laundry room project.
Laundry may be a chore, but it's one that homeowners like. According to the American Cleaning Institute, 24 percent of Americans say doing laundry is their favorite cleaning task. Perhaps part of the reason is the location of the work; washers and dryers are no longer relegated to the garage or unfinished basement, but are instead located upstairs near a bedroom, in a stylish storage space, or even a multipurpose laundry and craft room. 
Clearly when you're building out such an essential and hardworking room for a homeowner, the last thing you want to do is waste precious space. At the Model ReModel, Assistant Project Manager Matt Offerman uses a smart and easy strategy for regaining space--and visual appeal--in the laundry room.
"Dryers usually have to be six inches away from the wall because of the vent," he explains. "But when you push the washing machine back to the wall as most people do, the dryer looks out of place. By installing a recessed dryer vent box, we gain four inches of space, because all the ductwork fits into that pan, and we can set the dryer closer to the wall."
Synergy took similar care with the washer, adding a pan beneath the washing machine in case of any leaks. But the remodeling firm didn't stop there. "We went an extra step and put a drain in the bottom of that pan, so that if there is a leak, that water will actually drain into the plumbing and never overflow into the space below."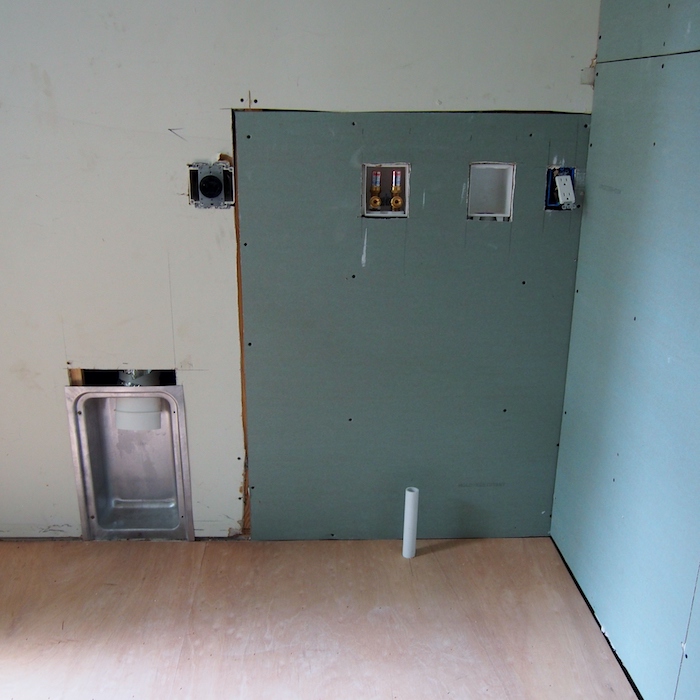 The recessed dryer vent box on the left will allow the dryer to sit flush with the washer in the Model ReModel's new upstairs laundry room. 
 Synergy Assistant Project Manager Matt Offerman explains how the dryer vent and plumbing connections come from the upstairs laundry room to the wall behind the primary suite's breakfast bar. 
Moving a laundry room upstairs? Check out these tips!