Couple Says Goodbye to Dated Dining Room in Favor of Open Floor Plan
Walls will disappear in Mark and Mina Fies' remodel of their kitchen, dining, and living spaces.
When you stand in the living room of Mark and Mina Fies' 1969 Reston, Va., home, you notice the sliding glass doors, the view of the nearby tree-lined walking trail–and walls. Lots and lots of walls.
A wall separates the living room from the dining room. A wall divides the dining area from the kitchen. A wall blocks the kitchen from the living area. It's a bit choppy–and just about the opposite of the open floor plan desired by so many of today's homeowners.
Mark and Mina are no different. "We love to cook, and we want to entertain our friends and family," says Mina. After years of renting, they were ready to create a space that allows them the room and flexibility to share their home with those they love. 
Unlike the typical homeowner, though, Mark and Mina brought their years of professional remodeling and design experience to their existing floor plan and weren't intimidated by the prospect. "There was enough work here so we could dig in and really make it our own," Mina says.
The plans call for a near-total transformation of the space.
During the coming months, Synergy crews will:
Remove the gas fireplace, which limited the intended flow of the remodeled living room, and cover the opening.
Remove the existing walls, using a flitch plate to provide structural support. 
Add a generously sized island with a gas range.
Incorporate a linear electric fireplace on the side of the island facing the living room. 
Add a secondary cooking area with an electric range. 
Install new cabinets, countertops, flooring, appliances, and lighting. 
Relocate the washer and dryer (currently located off the breakfast nook) to the third floor.
It's a significant amount of work, and the structural changes promise to be the most complex aspect of this year's Model ReModel. "There's a lot going on in a small footprint," Mark says.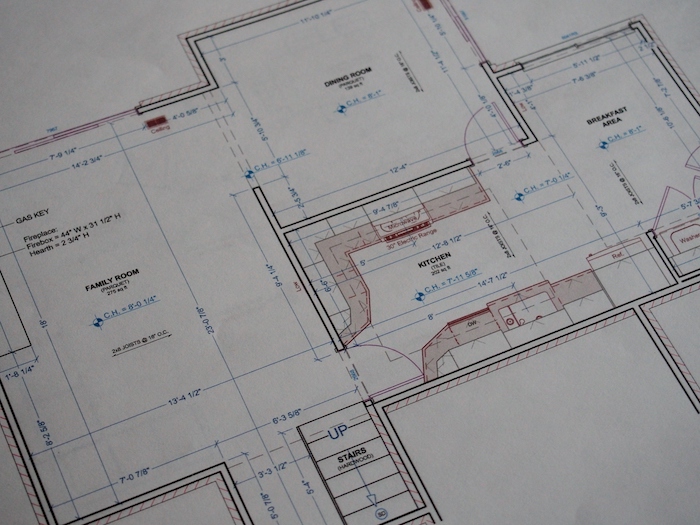 Under the existing floor plan, the main level of the Fies home is divided into distinct spaces for cooking, eating, and relaxing. 
 Mark Fies gives an overview of the main level remodeling plans for the Model ReModel. 
Love a good demo? Check out how Mark and Mina are expanding the bedroom suite.