Couple Designs Spacious Bedroom Suite for Model ReModel Home
Plans will eliminate an unused dressing area, redo the bedroom suite's entrance, and expand the bathroom. 
After renovating numerous Northern Virginia homes since 2008, Mark and Mina Fies are ready to create–and enjoy–their own bedroom suite.
This year, they will get the chance to do that through the Model ReModel, reconfiguring and updating the second floor of their Reston, Va. home.
Built in 1969, the primary bedroom suite has a floor plan that is less than ideal, with two small wall closets, a compact bathroom, and a dressing area that ends up being wasted square footage. 
Over the next several months, though, the couple and their design-build firm Synergy Design & Construction will transform the space with a new sleek, contemporary feel. The sitting area will gain an updated fireplace and a breakfast bar, and the bathroom will grow in size and functionality with a double-sink vanity and water closet. The entrance to the bedroom will become more dramatic with double doors, and the room will benefit from a new walk-in closet. 
To learn more about what the Fies have planned, watch the video below.
Mina Fies outlines the vision for the primary bedroom, sitting area, and bathroom in the Model ReModel.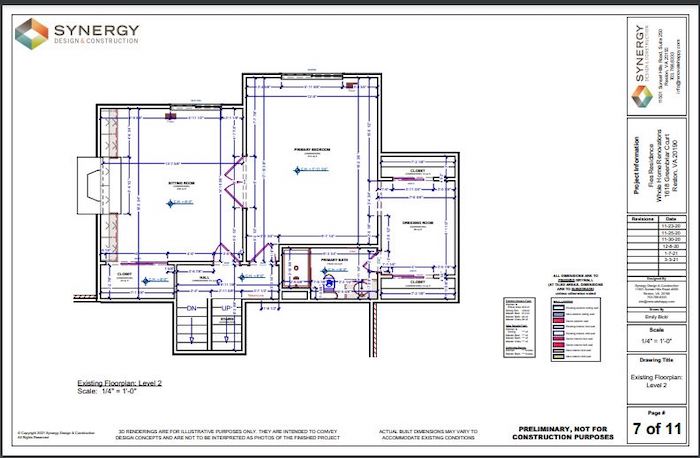 The existing bedroom suite has a cramped bathroom, an unused dressing area, and multiple entrances.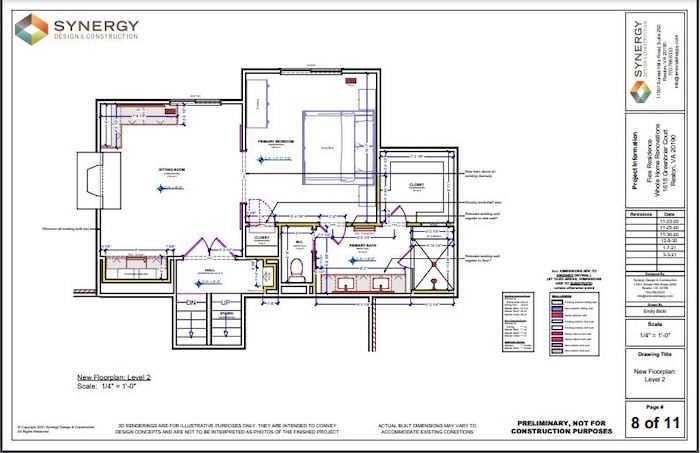 Mark and Mina Fies of Synergy Design & Construction plan to rework the floor plan of their bedroom suite, expanding the bathroom and closets while keeping the spacious feel of the bedroom and sitting area. 
These built-ins will be removed, and a difficult-to-access closet in the corner of the room will become a breakfast bar. 
Next stop: framing! Check out the start of a new bedroom suite here.