5 Ways to Keep Neighbors Happy During a Remodel
Treat the homeowner's community with respect, and you might just generate some new business.
Between construction noise and contractor parking, a home remodeling project can lead to countless complaints from unhappy neighbors.
But it doesn't have to be that way, according to Mark and Mina Fies, the leadership behind Synergy Design & Construction and the homeowners of the 2021 Model ReModel in Reston, Va. Founded in 2008, Synergy believes in communicating not just with its homeowner clients, but with the neighborhood that surrounds their remodeling jobs.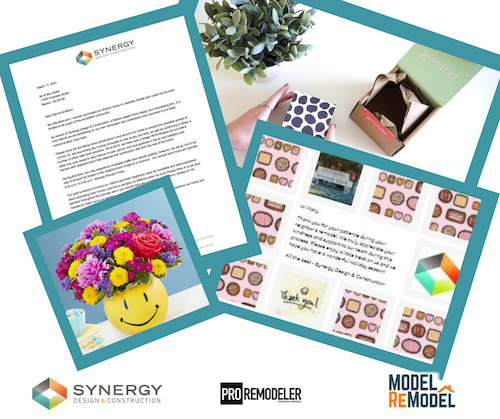 To keep neighbors happy and avoid complaints, Synergy sends notes to residents informing them about the project's start and finish. The design-build firm sometimes sends small gifts as a goodwill gesture after addressing a neighbor's complaint. 
Here are the five strategies they recommend.
Establish a relationship.

Before Synergy starts work, it sends between 50 and 100 letters to residents who live close by, letting them know that a remodeling project is beginning soon. "Keeping people informed of what is going on in their own neighborhood makes them feel cared for and listened to," says Mina. "It also helps to set expectations about what the process will mean for them, any disruptions they may experience, and who to call if there is a problem or they have a complaint. Putting names and faces to the work really helps neighbors feel like they are part of the process." 

Keep things clean.

Construction debris can be downright unattractive, and dumpsters can attract rodents and other pests. "During a remodel, we are obsessed with keeping a clean and organized job site," Mina says. "Our dumpsters are regularly switched out so they are not overflowing during construction, and we often power wash the driveway and stone walkways once work is complete."

Conceal unsightly things.

Portable toilets are a fact of life on a remodeling site, but that doesn't mean the neighbors–or your homeowners–are happy about it. To improve the situation and add privacy, Synergy tucks portable toilets behind a simple garden lattice. "It's these touches that show we respect not only our client's home, but the neighborhood, too," Mina says. 

Address complaints.

"If a neighbor does complain about an issue–trade partner parking is a good example–we make it a priority to fix it. Mark [Synergy's COO] will also make a personal phone call to the neighbor to discuss their concerns," says Mina. "We don't get many complaints, but on the rare occasion we do, we send flowers or a small gift box and an apology as a goodwill gesture."

Say farewell.

When Synergy finishes a remodeling project, the design-build firm sends a second note to the neighbors, thanking them for their patience and letting them know that the project has been completed. It's a small act that can have a big benefit: new leads. "We've had client neighbors contact us as a result for new business because they see how methodical and considerate we are, and they really appreciate that level of service," Mina says.
Want another way to keep the neighborhood–and homeowners–happy? Keep the jobsite as dust-free as possible. Read Synergy's tips here.