5 Reasons Why Carpenters Should Embrace Technology on the Job Site
Make everyone's job easier by adding tech to your carpenters' skill sets.
If you want to run a slow, inefficient remodeling company that has plenty of chances to make expensive mistakes on a project, keep on creating those three-ring client binders with lots of hard copy plans, printed change orders, and other papers. 
But if you'd like to finish your client projects as promised and on time, you might want to follow the lead of Synergy Design & Construction and provide your carpenters with a few tech tools to do their jobs more effectively. 
RELATED: How to Control Dust on the Job Site
"We really embraced technology from the beginning," says Mina Fies, Synergy's CEO and co-founder with her husband Mark, both of whom came from corporate backgrounds before founding the Reston, Va.-based remodeling firm in 2008. "Technology enables and empowers our carpenters and crew, provides a high level of transparency and keeps everyone on the same page. It is also essential for the rigorous project management approach we apply to all of our home remodels."
"It just makes your job easier in the long run," says Matt Offerman, the assistant project manager at Synergy who has been heavily involved in the Model ReModel in Reston, Va., and embraced the chance to use carpenter technology. At Synergy, Offerman uses a tablet, smartphone, tiny cameras, and other software to help him do his job. 
Also required: mobile Internet access, which can be provided through cellular-equipped tablets, cell phone hotspots, or just asking the homeowners if they'd set up a guest password on their household wi-fi network, as Synergy often does at its pre-construction meeting.
Whatever connectivity method you choose, though, here are five reasons why it's worth investing in carpenter technology. 
Your carpenters always have the latest details on their projects.

At Synergy, Offerman and others rely on cloud-based project management software Smartsheet, which contains "all the specs for everything we are using," from plumbing to paint colors. As Synergy's Interior designers build out a design in the office, those details are automatically updated online so that the carpenters (and subcontractors) in the field have all the specs they need. Daily reports posted online include photos, giving everyone a chance to see what's happening on the job site. 

Carpenter technology helps you eliminate time-wasting administrative tasks on the job site.

"When I first started, everything was in a binder on paper," Offerman recalls. "Every time there was an update, you had to pull it out and put in the new paper." Now he just pulls up the Smartsheet app on his Synergy tablet or smartphone, and all the information he needs is right there. 

You reduce the risk of mistakes.

Change orders may be hard to escape in remodeling, but good technology--whether it's sophisticated project management software or religiously updated spreadsheets--can help your carpenters keep on top of your clients' requests, rather than making a costly, schedule-busting error due to a lost piece of paper. By keeping all the project specs in the cloud and instantly accessible, "there is one source of truth," says Nicola Shelley, Synergy's director of marketing. 

You give your carpenters instant, on-demand access to how-to information.

"There are new products coming out all the time," says Offerman, who says he often goes online for technical advice if he's dealing with a recently released or unfamiliar product. "I've got 25-plus years as a carpenter, but I've still got the capability to learn. It is very easy to look up a YouTube video and learn how to do something." 

You will discover hidden problems before it's too late.

Synergy uncovers ductwork, piping, and other potential obstructions by cutting small holes in the wall and inserting a small digital camera to reveal what's behind the drywall. "That allows us to design around stuff," Offerman says. "You don't want to be that company where something is unforeseen and then you have to create change orders and charge more money." 
What's next in terms of carpenter technology on the job site? Think X-ray vision sensors that reveal the bulkheads, structural beams, and other obstacles that may be lurking behind the walls at your customer's home. "The imaging technology is out there," Offerman says. "It's just still very expensive at this point."
Synergy Design & Construction Project Manager Chad Groce and Assistant Project Manager Matt Offerman rely on technology to ensure they have the latest production schedule and specs at the job site.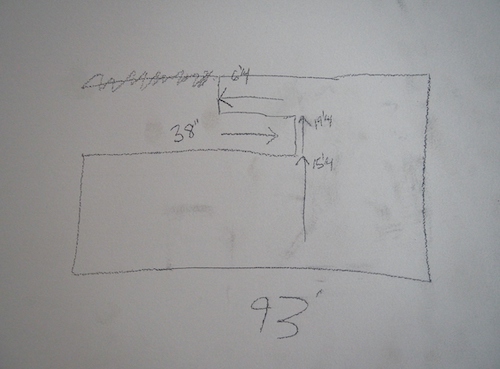 Synergy's carpenters are equally comfortable with mobile tech and old-school calculations. 
A workbench at the Model ReModel contains power tools and other essentials.
Leveraging new tech to remodel old homes is a match made in cost-saving heaven. Check out seven issues to look out for in a late 20th-century home.